+918045800157

Send Inquiry
Gear Lever Handles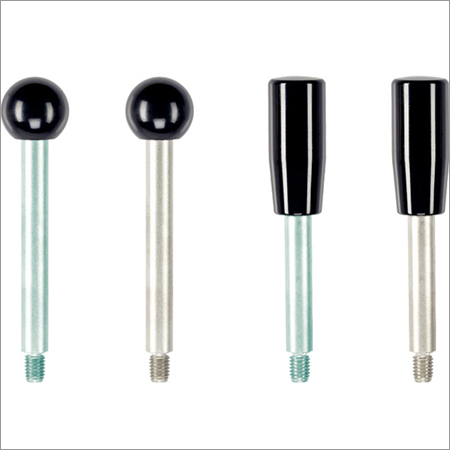 Product Details:
Supply Ability :

2000 Piece Per Month
Price And Quantity
55 onwards INR/Piece

1 Piece
Trade Information
2000 Piece Per Month

2-3 Days
Product Description
The Gear Lever Handles are handles used to adjust gears, hydraulic valves or control levers. These handles are used heavily throughout industry for a multitude of applications. They are designed for alignment, adjustment, or tightening of machine elements. Common uses for these handles include cranking, clamping, or pulling actions, start/stop applications, changing gears, and initiating/adjusting product flow. The offered Gear Lever Handles are made available by us for use in the various industries. They are easy to use and operate.
Material :

Gear lever handle

Steel, zinc-coated by galvanization, passivated
Stainless steel 1.4305, dull blasted

Ball knob

Thermosetting plastic PF 31, black, DIN 319

Cylindrical handle
Specification :


Dimensions






Art.-No.

d 1

l 1

d 2

d 3

l 2

l 3

max.

[mm]

[°C]

[g]

 8

 63

M 6

20

 9

18,0

110

 30

24350.0020

 8

 80

M 6

20

 9

18,0

110

 34

24350.0022

 8

100

M 6

20

 9

18,0

110

 39

24350.0024

10

 80

M 8

25

11

22,5

110

 50

24350.0030

10

100

M 8

25

11

22,5

110

 62

24350.0032

10

125

M 8

25

11

22,5

110

 76

24350.0034

12

100

M10

32

14

29,0

110

 96

24350.0040

12

125

M10

32

14

29,0

110

116

24350.0042

12

160

M10

32

14

29,0

110

146

24350.0044

14

125

M12

35

16

32,5

110

157

24350.0050

14

160

M12

35

16

32,5

110

201

24350.0052

14

200

M12

35

16

32,5

110

251

24350.0054

16

160

M14

40

18

37,0

110

255

24350.0060

16

200

M14

40

18

37,0

110

326

24350.0062

16

250

M14

40

18

37,0

110

397

24350.0064

 8

 63

M 6

18

 9

40,0

110

 26

24350.0120

 8

 80

M 6

18

 9

40,0

110

 33

24350.0122

 8

100

M 6

18

 9

40,0

110

 42

24350.0124

10

 80

M 8

21

11

50,0

110

 50

24350.0130

10

100

M 8

21

11

50,0

110

 62

24350.0132

10

125

M 8

21

11

50,0

110

 78

24350.0134

12

100

M10

23

14

65,0

110

 81

24350.0140

12

125

M10

23

14

65,0

110

103

24350.0142

12

160

M10

23

14

65,0

110

133

24350.0144

14

125

M12

26

16

80,0

110

125

24350.0150

14

160

M12

26

16

80,0

110

168

24350.0152

14

200

M12

26

16

80,0

110

216

24350.0154

16

160

M14

28

18

90,0

110

214

24350.0160

16

200

M14

28

18

90,0

110

273

24350.0162

16

250

M14

28

18

90,0

110

352

24350.0164

 8

 63

M 6

20

 9

18,0

110

 30

24350.0520

 8

 80

M 6

20

 9

18,0

110

 34

24350.0522

 8

100

M 6

20

 9

18,0

110

 39

24350.0524

10

 80

M 8

25

11

22,5

110

 50

24350.0530

10

100

M 8

25

11

22,5

110

 62

24350.0532

10

125

M 8

25

11

22,5

110

 76

24350.0534

12

100

M10

32

14

29,0

110

 98

24350.0540

12

125

M10

32

14

29,0

110

116

24350.0542

12

160

M10

32

14

29,0

110

146

24350.0544

14

125

M12

35

16

32,5

110

157

24350.0550

14

160

M12

35

16

32,5

110

201

24350.0552

14

200

M12

35

16

32,5

110

251

24350.0554

 8

 63

M 6

18

 9

40,0

110

 26

24350.0620

 8

 80

M 6

18

 9

40,0

110

 33

24350.0622

 8

100

M 6

18

 9

40,0

110

 41

24350.0624

10

 80

M 8

21

11

50,0

110

 50

24350.0630

10

100

M 8

21

11

50,0

110

 62

24350.0632

10

125

M 8

21

11

50,0

110

 78

24350.0634

12

100

M10

23

14

65,0

110

 81

24350.0640

12

125

M10

23

14

65,0

110

103

24350.0642

12

160

M10

23

14

65,0

110

133

24350.0644

14

125

M12

26

16

80,0

110

125

24350.0650

14

160

M12

26

16

80,0

110

168

24350.0652

14

200

M12

26

16

80,0

110

216

24350.0654
Other Products in 'Operationg Elements' category